The Jeffco DeAngelis Foundation and Safe and Sound Schools are extremely excited to offer the Especially Safe training!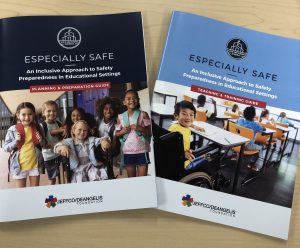 Especially Safe -Teaching and Training Guide – PRINT (1)
Especially Safe – Planning Prep Guide – Final – PRINT (1)
Especially Safe is an inclusive approach to safety preparedness in educational settings that includes the Teaching and Training Guide and a Planning Prep Guide, linked above!
We are incredibly proud of this work by our partners at Safe and Sound Schools.
This guide consists of instructional frameworks designed to support educators in teaching essential concepts of safety preparedness to students/individuals with special needs, as well as key considerations for conducting subsequent training activities, such as emergency drills and exercises, safely and effectively.
The learning activities are designed to:
Build student confidence, familiarity and comfort with safety procedures, actions, and supports well in advance of practice and exercises such as drills
Provide a baseline of the most universally appropriate language and activities that can be easily adapted and/or scaled by educators and parents
Consider the earliest cognitive and developmental levels, reduction and mitigation of stress, and trauma-informed teaching
The guidance is designed to:
Support parents and educators in planning and conducting safety drills with students/individuals with special needs
Build confidence and capability in teaching and training for educators and staff of students with special needs
Ensure physical and psychological safety of students before, during, and after a crisis
In short, the purpose of this teaching and training guide is to provide a resource for parents
and educators to leverage their talents and professional skills to provide customized safety
instruction to our most vulnerable students, with consideration to their age, developmental
stage, and/or cognitive ability. In doing so educators are doing their part to support
students, by empowering them with the tools and knowledge they need to be safe and
sound.
Check out the webinar for more information!
Copyright © 2021 Safe and Sound: A Sandy Hook Initiative
All rights reserved.
User Guidelines:
Permission is granted free of charge to download or photocopy all pages of this program manual. Under no circumstances is it permissible to sell or
distribute on a commercial basis copies of material reproduced from this publication.
P.O. Box 173
Newtown, CT 06470
www.safeandsoundschools.org