The Jeffco DeAngelis Foundation was honored to present at the Colorado Association of School Boards (CASB) 79th Annual Convention in December as part of the Distinguished Speaker Series. "The annual CASB Convention is one of Colorado's biggest School Board Member education events of the year, bringing together CASB members, superintendents and education experts."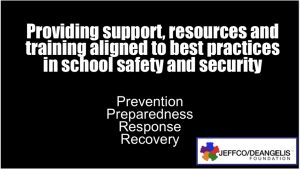 School board members are charged with an enormous amount of responsibility; creating robust learning environments, attracting and retaining high quality educators and administrators, managing physical assets, collaborating with other governmental agencies, actively engaging families and community members, and establishing fiscally sound financial practices to name just a few. Of all of their responsibilities, perhaps none is so critical as the responsibility to plan for the safety and security of the precious students who are placed under their care each and every day. It is essential that school board members thoughtfully consider, and regularly review, their safety and security practices making their learning environments as safe as possible.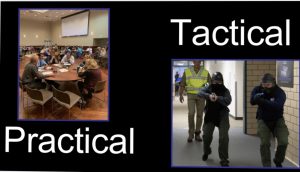 The DeAngelis Foundation team went over the following key questions with school board members from across Colorado at this event:
What structure have you established as a board to get regular updates regarding your district's safety and security planning without compromising tactics?
Are you aware of current trends/issues that your schools are wrestling with?
How does your Incident Command system ensure district-wide consistency while remaining flexible enough to be effective across various settings?
What opportunities are you providing to your community to engage in this conversation with you?
How are you ensuring that new staff members and substitutes are fully aware of your expectations regarding safety and security?
How are students made aware of their expectations including what avenues they have for sharing safety concerns?
How does your district ensure that your first responders are fully aware of your planning and response strategies and how does their expertise inform your practices?
Is there a shared understanding and commitment among board members, staff and community regarding the structures that have been established for preparation, response, and recovery?
Has your board observed an emergency full scale exercise or lockdown drill in a school?
Has your board been trained on how to respond to a threat during a board meeting?
How often are you revisiting these questions as informed by best practices?
CASB Jeffco DeAngelis Foundation Brochure
As school districts and school boards across Colorado and the nation have these conversations and develop policies, the Jeffco DeAngelis Foundation is here as a resource and to provide training. Please contact us to learn more about the trainings we can provide to education staff, school board members, community, and law enforcement partners.