The Jeffco DeAngelis Foundation Presents:
Armed School Personnel Enhanced Tactics
This event is being rescheduled. Stay tuned for more information.


"The training was very thought provoking and intense in a good way. The tactics being taught have been well thought out and you can tell the tactics are based from real life experiences and are being taught as a way to save your life." – Former participant.
Are you an armed school employee assigned with responding to critical incidents? This one-day training is led by nationally recognized leaders in law enforcement and school safety and designed for school personnel who have been authorized and assigned the additional duty and responsibility to guard, deter, and detect threats.
The Jeffco DeAngelis Foundation in partnership with CDSIP offers this dynamic and hands on training at no cost to members.
Training to be held at The Frank DeAngelis Center for Community Safety. This one of a kind facility has been highlighted on Showtime and CBS News as the most realistic school training environment in the U.S.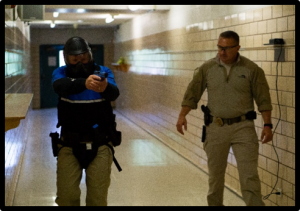 When: This event is being rescheduled, we will reopen registration once a new date is selected
Location: Frank DeAngelis Center for Community Safety, 6625 West 45th Place, Wheat Ridge
Time: 8:00 a.m. – 5:00 p.m.
Cost: This training is fully sponsored by the Jeffco DeAngelis Foundation and is being provided at no cost to participants.
Class Size: Due to the tactical nature of this hands-on course, class size is limited to 21 participants.
Meals: A variety of local restaurants are easily accessible from the training facility.
Handout to share – A new handout will be available once a new date is selected.
Registrations beyond the class size of 21 are waitlisted in the order received to fill openings in the event of any cancellations. You will be contacted following your registration. Please watch for a final confirmation indicating that a spot has been secured for you or you have been placed on our waitlist for cancellations or future classes.